Meet our Staff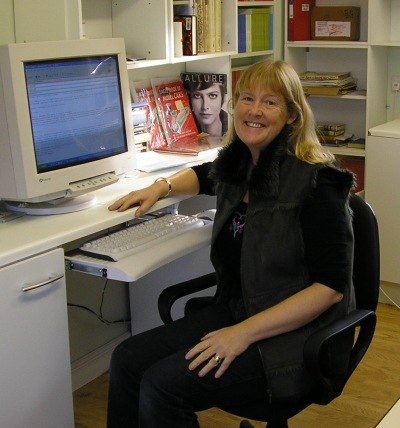 This is Heather, sitting at a computer as usual! Heather was the initial founder of Peakirk Books in 1997. Having worked previously as a primary teacher, and later in an academic library, Heather wanted to develop her love of books into a business, resulting in the birth of Peakirk Books.
Heather is responsible for most of the book buying, which is why we specialise in Children's Books. She is, when not out buying or cataloguing in the office, usually found in front of the shop computer processing orders or serving in the shop.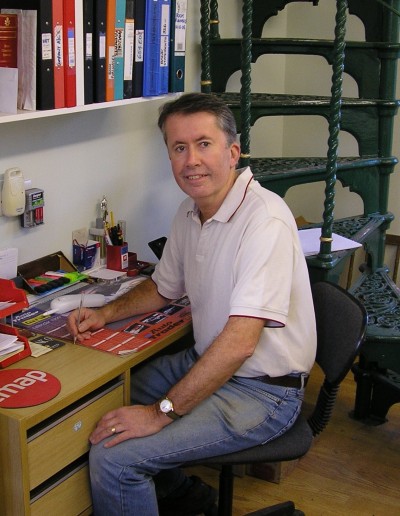 Meet Jeff, Heather's husband and now Business Partner. Jeff worked unoffically for Peakirk Books by keeping Heather's accounts in the early days, but in 2000 , when the work at Peakirk books became too much for one person, Jeff left his 'sensible' managerial post in the non book world, and joined Peakirk books as a full time member of staff. Jeff takes responsibility for all the accounts and adminstration, as well as often being on 'telephone duty'. If you telephone us at all (01328 829944), it may well be Jeff who takes your call.
This is Henrietta - known to her friends as Ben or Henny, our Gordon setter who was trained by the Gordon Setters who preceded her, Golly and Poppy, and is now our Chief Security Officer. Ben came to us aged 4, via United Gordon Setter Rescue, and did have a few problems of her own, but she managed to sort them out with a little help from Poppy and us, and makes an excellent Security Manager. At the time of writing she is 10, nearly 11, and has recently been training up our latest addition (see below) as she feels that she deserves some retirement time soon, although she doesn't want to give up the day job all together. She thinks semi retirement would suit her.
This new recruit is Mostyn, or Mozzie as he is usually called - amongst other things. He is an Orange Belton English Setter - and travelled a long distance to join our company - all the way from Serbia. He arrived in mid December 2016, so we decided to let him settle in and not start his new job until January 2017. He needed a little while to adjust and learn the language, but has settled in very well, and Henny is very pleased with his progress so far. He certainly seems very happy in his work, and takes every opportunity to help us look for books when we are getting them off the shelves, and likes to encourage us to take time off and go to the beach whenever possible. Mozzie came to us courtesy of Settusfree - a very good Charity that helps organise the rescuing of setters from mainly European Countries commonly Greece, Spain, & Croatia, but other countries too - where setters are used for hunting, and then routinely 'disposed of' when not suitable, leading to a glut roaming on streets or worse. If you want further information about Settusfree just email us at [email protected] and I will put you in touch.