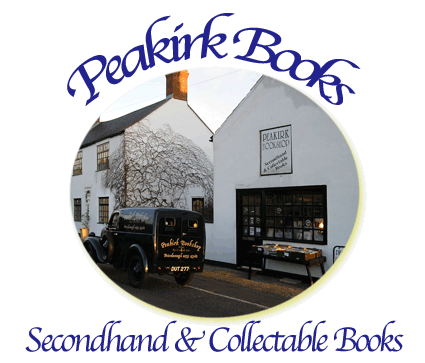 Telephone us on (01328) 829944
To continue trying to encourage our customers to use our own site for purchases, we have decided to continue the practice during 2016, as we did in 2015, that for anyone who decides to buy their book/s here, rather than buying it from one of the agencies that stocks our books such as ABE or amazon, can have a 10% discount if they wish. To do this just use the code PBST2 when you make your purchase. (You may only use 1 voucher offer per purchase, so please do not try and use this along with another code).
---
Girls Gone By Books - Sale
If you are a regular customer you may be aware that we stock the new books published by Girls Gone By, the publishers of Young Adult scarce girls titles from years gone by.
For various reasons we do have some of these books that we sell below the RRP of 13.00GBP. To help you find these I have made a new category. The usual Category for Girls Gone By Books is to look in Categories under Juvenile - New Books - Girls gone By. To find these cheaper books, look under Juvenile - New Books - Girls Gone By - Sale. We hope you find something of interest here for you. You might want to risk a new author at a cheaper price! For example - More about Mandy is selling at 6.00GBP while stocks last.
---
The Book pictured below, Ozzie's Migration, tells the story of the first few month's of a young Osprey's life; from hatching in a nest at Rutland water to the epic migration to West Africa. It is a lovely little book, ideal for explaining migration to the young. Alll proceeds from sales of the book go towards the Leicestershire & Rutland Wildlife Trust's Osprey Migration Foundation, helping to link communities along Osprey Migration flyways. If you would like to purchase a copy (at just 5.00GBP) please email us at peakirkbooks@btinternet.com and we will arrange it for you.
*We are 'old-fashioned' booksellers who used to have a book shop whilst we could make it pay.
*We ARE happy to discuss the books, their content and/or their condition with customers on the telephone (01328 829944) or by e-mail (peakirkbooks@btinternet.com) because we work full time in the business and we can simply go and get the books off the shelves to answer your queries.
*Customer Service IS important to us
*If these values are important to you please support us
We are especially looking for 1st edition Enid Blytons in dustwrappers at present. Also required are early editions of childrens classics,
and good quality illustrated books.
We are also seeking good quality crime fiction in duswrappers including Agatha Christie, particularly earlier works, and crime fiction pre 1960's, the earlier the better!
We stock books which include the following authors:
BB (Watkins-Pitchford). Winifred Finlay
Mabel Esther Allan Enid Blyton
Dorita Fairlie Bruce Gladys Mitchell
Violet Needham EllestonTrevor
Monica Edwards Elsie Oxenham
Antonia Forest Lorna Hill
Lorna Hill Malcolm Saville
Welch, Ronald Elinor Brent-Dyer
W E Johns Bodley Head Career Stories
Pamela Mansbridge John Pudney

However this is not an exhaustive, we also stock many other authors of children's fiction, with a leaning towards girls school stories, boys school stories, pony stories, children's adventure stories and similar.

Good quality illustrated children's book are also available, especially old editions by authors:
Arthur Rackham
Dulac
Kay Nielsen
Watkins-Pitchford
Also lovely illustrated fairy items wanted - books & ephemera.General Fiction, Crime Fiction, Sci-Fi, Fantasy Fiction, Transport, History, War & Military, Aircraft, Naval, Trains, Topography, Travel, Brids, Natural History, Country Matters, Sport, Horse's & Horse riding, Angling, Games, Biography, Autobiography, Crafts & Hobbies, Alternative Medicine, Health & Beauty, Art, Architecture, Cookery, Music, Humour, Poetry, Reference, Theatre & TV, True Crime, Supernatural, Maps, Royalty, Antiques, Academic, Psychology, Sociology, Engineering, Politics and many more. However Generally We are not looking to buy in these areas.
Telephone us on 01328 829944
We also stock new books published by Girls Gone By - publishers of hard to find girls school stories.
Established in 1997 we are a small family run second-hand book business, specialising in 20th century children's books, crime & detective fiction and with a general stock. Since relocating we no longer have a physical shop, but you can visit our book room by appointment, just phone us on + 44 (0)1328 829944.
LINKS TO OTHER BOOKSELLERS AND SITES OF INTEREST
Heather is also a partner in a small ephemera business. The business is called 'Words Gone By - the Vintage Paper Girls', and they buy and sell all types of ephemera including cards, scraps, booklets,broadsheets, catalogues, magazines, games, railwayana, documents, advertisements - in fact almost any old printed matter you can imagine, except stamps. We Sell at St Andrews Hall in Norfolk, at the Monthly Antiques Fair. We also do our best to acquire items for people's collections, so please send us your wants. To contact us about items you wish to buy or sell please phone Annette on 01485 518396 or e-mail Heather at vintagepapergirl@btinternet.com
Other sites
ibooknet
Friends of The Chalet School http://
http://www.reginaldalecmartin.co.uk/ - The Reginald Alec Martin Website - He was the author of many childrens books, using a variety of pseudonmyms. Look at this site to discover which ones.

For general enquiries - we are usually here most days keeping normal working hours. However if we are not there, we have a 24 hour answerphone, so just leave a message or send us an e-mail on peakirkbooks@btinternet.com.
Our address is Cherry Tree Lodge. Guist Bottom Road, Stibbard, Fakenham, Norfolk. NR21 0AQ.