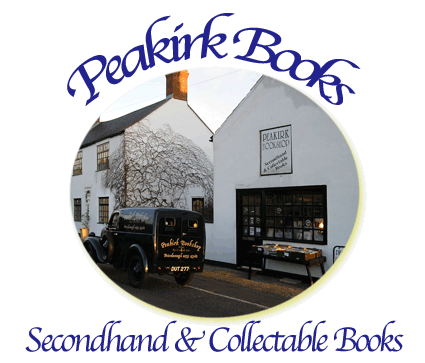 Telephone us on (01328) 829944
This year we have decided that anyone who decides to buy their book from us from our own site rather than buying from one of the agencies that stocks our books, can be rewarded by purchasing it 10% cheaper when they buy it directly on our site. To do this just use the code PBST when you make your purchase. We can do this because we do not have to pay the agency commission when you purchase directly from us, so we are passing the saving on to you. (You may only use 1 voucher offer per purchase).
*We are 'old-fashioned' booksellers who used to have a book shop whilst we could make it pay.
*We ARE happy to discuss the books, their content and/or their condition with customers on the telephone (01328 829944) or by e-mail (peakirkbooks@btinternet.com) because we work full time in the business and we can simply go and get the books off the shelves to answer your queries.
*Customer Service IS important to us
*If these values are important to you please support us, and other professional booksellers like us, such as members of Ibooknet.
If you would like a copy of our occasional news letter by e-mail, just ask on info@peakirkbooks.com
We usually have in Stock some 'Specials' which are a little more difficult to catalogue, and so have decided to call them just that - Specials! You will find them under the Topic heading of specials and an example of one is given below. They are something interesting, and just a bit out of the ordinary.
This Special comprises of 3 items. The first is a letter written, by hand, by rose Fyleman, the children's author. The letter ison her own addressed writing paper and is dated 1946. It makes reference to a book accompanying it which is item 2 - The signed 1st edition of Adventures with Benghazi (Rose Fyleman). Ms fyleman's handwriting is not the easiest to read, but her letter begins'Here it is at last. Only just out, and advertised - If I'm Pleased - as 'Adventure in Benghazi which I imagine nobody will want to buy!.' she then goes on to discuss other matters including a children's Highway Code for the Protection for Accidents Society that she has been commissioned to do (it was a choice between her and Milne she says). Thus we include item 3 - the Road Safety item she produced which is called Reddy Tail tells you - written by rose Fyleman and illustrated by Emil Weiss, a delightful production with 15 rules for children. The price for all 3 items plus our approximate translation of the letter is £95.00.
We specialise in children and illustrated books in the best condition possible. We stock books which include the following authors:
BB (Watkins-Pitchford). Winifred Finlay
Mabel Esther Allan Enid Blyton
Dorita Fairlie Bruce Gladys Mitchell
Violet Needham EllestonTrevor
Monica Edwards Elsie Oxenham
Antonia Forest Lorna Hill
Lorna Hill Malcolm Saville
Welch, Ronald Elinor Brent-Dyer
W E Johns Bodley Head Career Stories
Pamela Mansbridge John Pudney

However this is not an exhaustive, we also stock many other authors of children's fiction, with a leaning towards girls school stories, boys school stories, pony stories, children's adventure stories and similar.

Good quality illustrated children's book are also available, especially old editions by authors:
Arthur Rackham
Dulac
Kay Nielsen
Watkins-Pitchford
Also lovely illustrated fairy items wanted - books & ephemera.

Although we specialise in children's books we also stock books on:-
General Fiction, Crime Fiction, Sci-Fi, Fantasy Fiction, Transport, History, War & Military, Aircraft, Naval, Trains, Topography, Travel, Brids, Natural History, Country Matters, Sport, Horse's & Horse riding, Angling, Games, Biography, Autobiography, Crafts & Hobbies, Alternative Medicine, Health & Beauty, Art, Architecture, Cookery, Music, Humour, Poetry, Reference, Theatre & TV, True Crime, Supernatural, Maps, Royalty, Antiques, Academic, Psychology, Sociology, Engineering, Politics and many more.
Telephone us on 01328 829944
We also stock new books published by Girls Gone By - publishers of hard to find girls school stories.
Established in 1997 we are a small family run second-hand book business, specialising in 20th century children's books, crime & detective fiction and with a general stock. Since relocating we no longer have a physical shop, but you can visit our book room by appointment, just phone us on + 44 (0)1328 829944.
LINKS TO OTHER BOOKSELLERS AND SITES OF INTEREST
Heather is also a partner in a small ephemera business. The business is called 'Words Gone By - the Vintage Paper Girls', and they buy and sell all types of ephemera including cards, scraps, booklets,broadsheets, catalogues, magazines, games, railwayana, documents, advertisements - in fact almost any old printed matter you can imagine, except stamps. We Sell at St Andrews Hall in Norfolk, at the Monthly Antiques Fair. We also do our best to acquire items for people's collections, so please send us your wants. To contact us about items you wish to buy or sell please phone Annette on 01485 518396 or e-mail Heather at vintagepapergirl@btinternet.com
Other sites
ibooknet
Friends of The Chalet School http://
http://www.reginaldalecmartin.co.uk/ - The Reginald Alec Martin Website - He was the author of many childrens books, using a variety of pseudonmyms. Look at this site to discover which ones.

For general enquiries - we are usually here most days keeping normal working hours. However if we are not there, we have a 24 hour answerphone, so just leave a message or send us an e-mail on peakirkbooks@btinternet.com.
Our address is Cherry Tree Lodge. Guist Bottom Road, Stibbard, Fakenham, Norfolk. NR21 0AQ.